PET Granulating Production Line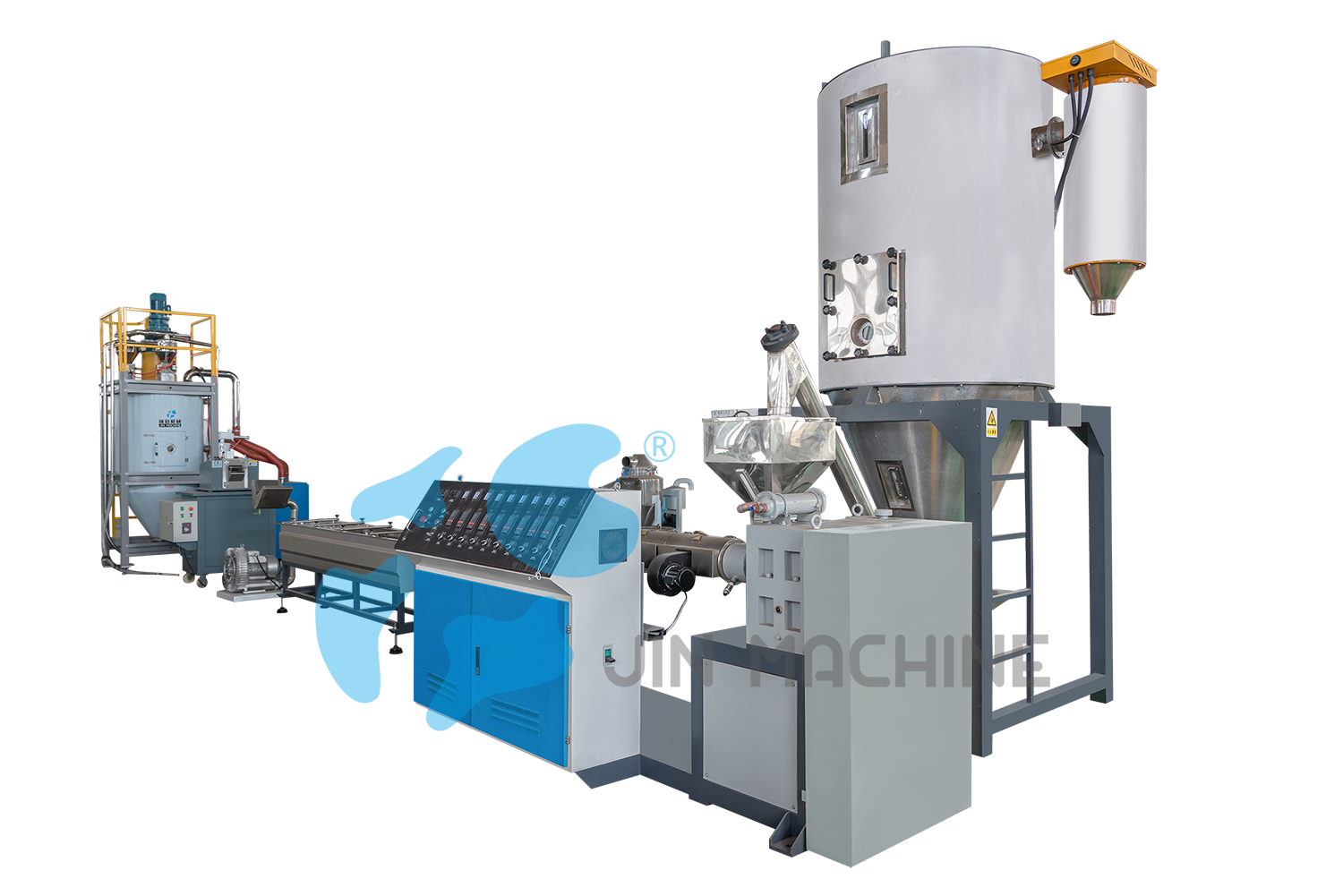 Applicable to: PET Flakes/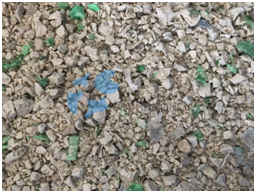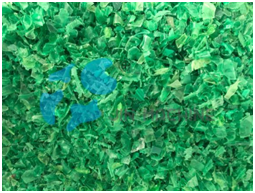 Technical parameters
| | | | |
| --- | --- | --- | --- |
| Model | Screw Diameter | Output(kg/h) | Pelleting Specification(mm) |
| SJ-75 | 75 | 100-150 | C3 x 3 |
| SJ-90 | 90 | 200-250 | C3 x 3 |
| SJ-120 | 120 | 300-400 | C3 x 3 |
| SJ-160 | 160 | 500-600 | C3 x 3 |
| SJ-180 | 180 | 700-800 | C3 x 3 |
After Pelleting: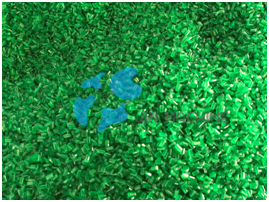 After Crystallizing: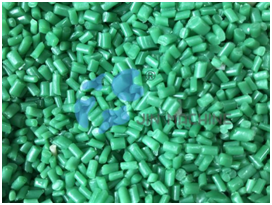 SolutionDescription:
1. Screw Feeder
Process: Chaindrive, transfer the raw material into the drying hopper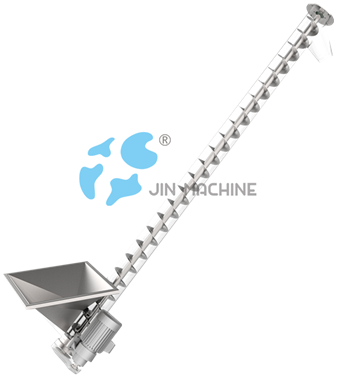 2.CSG SeriesDehumidifying Dryer
Process: The flakes are dried by lowdew point air to reduce the moisture, and we use blender to avoid flakes becomeagglomeration. Remain the IV, to ensure the continuousproduction. The capacity of the dryer can be customized according to customerdemand.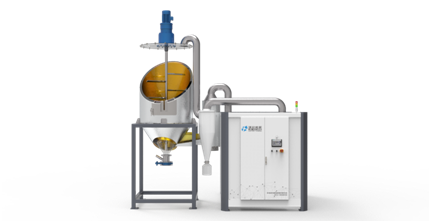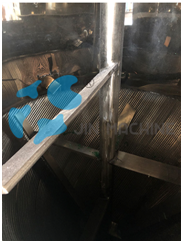 3.Single Screw Extruder

Process: PET flakes after drying, conveyedinto the single screw extruder by screw loader, then, compressing, plasticizingin the extruder, pelletize into granules. Depends on different screw diametersof single screw extruders, capacity can cover 100 to 800kg/hr.
Features:

l Screw: Use 38GMOALAmaterial, nitrogen treatment, spray Alloy, suitable for PET processing. Frequencycontrol (Brand:ABB)
l Max revolvingspeed: 110 r/min, harden face gear case, speed ratio 1:12.5 harden reducer,belt rotation(Brand: Wannan or Siemens Bader)
l Heating Method: Castaluminum heating ring. Total 9 heating area.
l Cooling Method: Air cooling. Feed section use watercooling
l Screen Exchange: Double column nonstophydraulic screen change
l Low-voltage apparatus : Use brand Schneider,temperature-controlled meter use brand RKC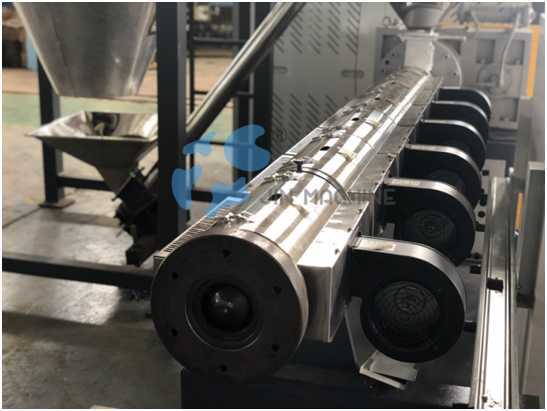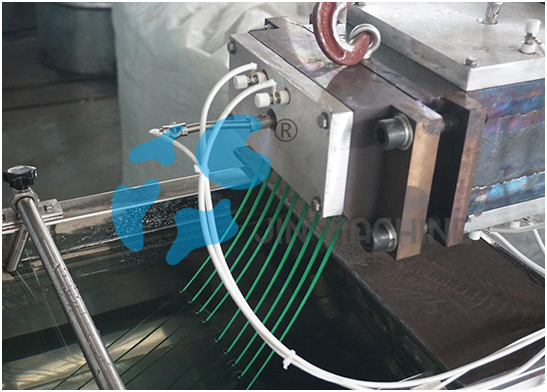 4.Cooling Bath

Process:Cooling the PET from the mould
Feature: Water TroughSize: 4000mm,SUS 304 stainless steel


5.Hot Air Dyer
Process: Dry the water on the noodlesurface, to achieve the desired result.
Feature:
l Vortex Pump Power : 1.5 KW ( TAIWAN GELIN)
l Low-voltageapparatus use brand Schneider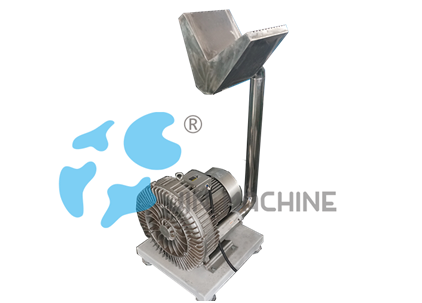 6.Pelletizer

Features:
l Cutter Power: 5.5 kw (Siemens Bader),Speedcontroller use brand ABB

l Number of noodle ≤16, cuttingsize: φ3×3mm
l Revolving knife Diameter X Length(mm):φ160×150(YG15Alloy), number of teeth(z):24
l Rubber covered roller Diameter X Length(mm):120*150 (wear proof and high temperature resistance rubber)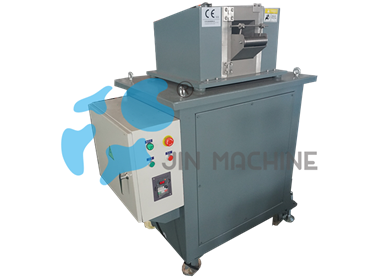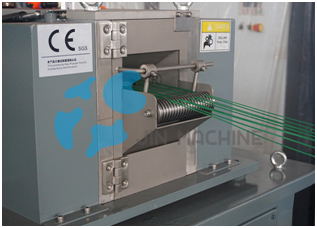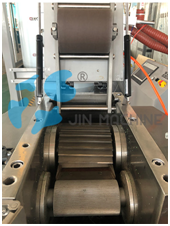 7.Vibrating Screen
Process:Separate the irregular material
Features:

l Using two screen and three outlet (one outletfor powder, one outlet for standard material,one for oversize material)

l The size of feeding inlet screen mesh holeand Outlet screen mesh hole will depend on client's requirement
l The screen use 2mm stainless steel (SUS304)after stamping
l Screen cover use 2mm stainless steel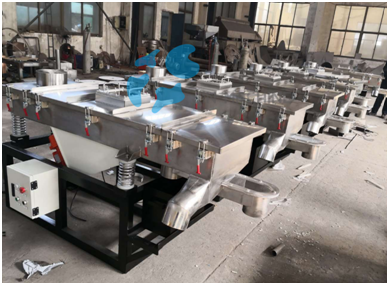 8.Crystallizer

Process:Material crystallizing to avoidagglomeration in the following process.
The capacity of hopper can becustomized according to customer's requirement.
l Double-deck heat-insulatedhopper body, the material connecting granular is SUS 304 stainless steel
l The material outside thehopper is 1.5mm aluminum plate
l The material inside thehopper is 1.5mm SUS304 stainless steel
l Thickness of intermediateinsulation layer is 5cm
l Observation door
l Safety ladder
l Equipped with 4 materialtemperature detector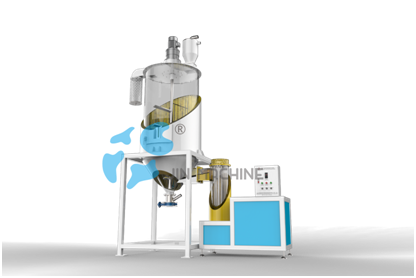 Video: