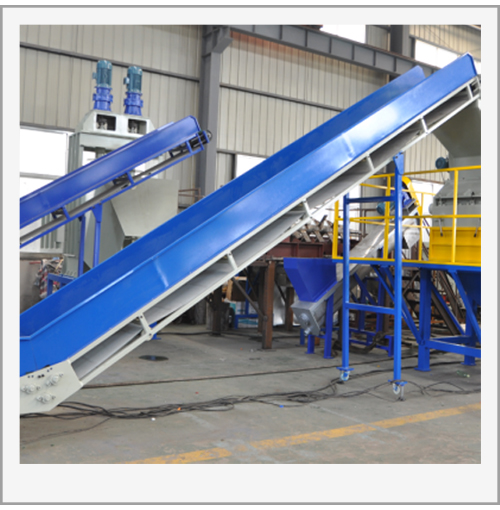 Belt Conveyor
Mineral water bottle conveyor belt conveyor This conveyor belt is mainly used for horizontally and inclinedly conveying bottle and bottle bricks.
The conveyor belt has anti-skid and anti-slip baffles on the conveyor belt. The bottle conveying efficiency is high, especially the feeding port. The feeding workers can feed safely and efficiently.
Waste plastic bottle flakes and PET mineral water bottles are the linking equipment between before and after the receiving of materials and a single machine. The power is 0.55 kilowatts and the output is 1 ton / hour.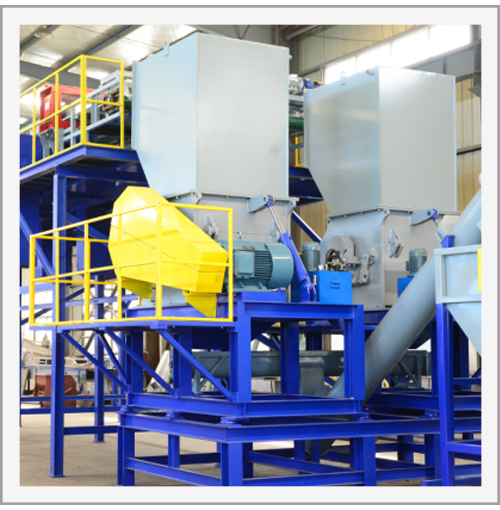 Crusher
a. The high-performance pulverizer specially developed for the recycling of waste plastics is suitable for both dry and wet pulverization. Wet pulverization forms strong cleaning.
b. Application:
Specially used for containers of various shapes made of any plastic material, including PET, PE, PP, PC, PS, PA, ABS, etc .; Shapes include compressed or uncompressed cans, bottles, boxes, buckets, baskets or Similar shapes ..... etc.
c.Characteristics:
The crushing working space is specially designed for the shape of container, with fast feeding and discharging, no accumulation, no elastic material, no repeated cutting, the particle size of discharging material is relatively neat and uniform, less powder.

The special design of the rotary knife axis angle forms a labor-saving and quiet cutting angle. The output load is stable during crushing, the vibration is small, the effective power is increased, and the service life of the transmission system and structure is increased

The tiltable body structure provides a safe, fast, and labor-saving maintenance method, and the average maintenance time is reduced by half compared with that of an ordinary grinder

The main bearing seat is outside the machine body, easy to maintain, not affected by the temperature and leakage of the grinder, increasing the service life

Body structure and operation safety meet CE standards
Our company specially designed crusher for PET bottle crushing, which has the characteristics of smooth feeding, stable work, low energy consumption, low vibration and noise, strong structure, low maintenance cost and long service life. At the same time, in addition to using the impact of water to enhance the frictional cleaning effect of PET chips, wet crushing also reduces frictional heat due to the cooling effect of water, reduces PET debris, and extends tool life.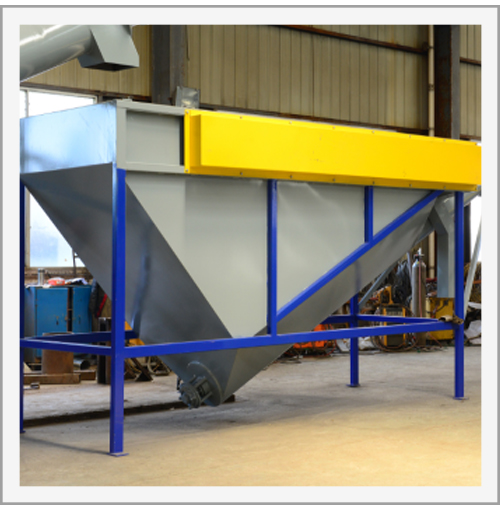 Floating Washer
PET bottle flake washing and rinsing machine rinsing tank When the bottle body is crushed, a small amount of bottle caps and bottle rings are crushed together.
The manufacturing materials of bottle caps and bottle rings are PP or HDPE, which must be excluded. After the crushed pieces are mixed, the difference in specific gravity between different plastics (~ 1.3 / ~ 0.8) is used, and water with a specific gravity of 1 is used as a medium. Under the action of separation and floating washing of a floating washing machine, PET bottle flakes can be precipitated, The bottle cap and bottle ring fragments are floated and removed, so that the PET fragments can be repurified.
The power is 16 kW, and the output is 1 ton-2 ton / hour.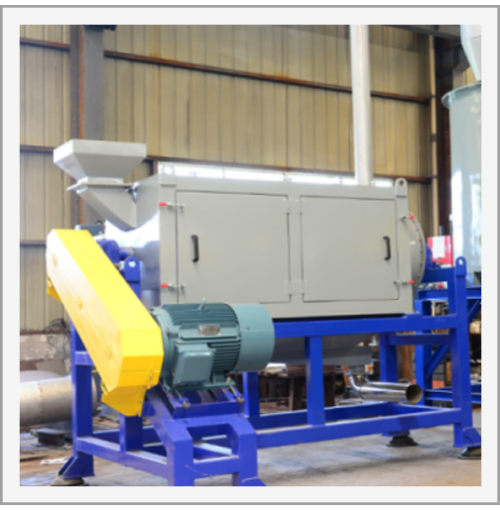 De-watering Machine
High-speed de-watering dryer is used to de-watering and dry the cleaned PET bottle flakes. The 360-degree stainless steel net has the best dewatering effect.
The de-watering PET bottle flakes can be used to spin chemical fiber or make other plastic products. Dewatering and drying effect is better.
Mineral water bottle polyester bottle flake horizontal dehydrator dryer Ideal equipment for dehydration and drying of PET mineral water bottle flakes, with a power of 11-18.5 kilowatts, and a good dehydration effect, up to 2%, which is very suitable for small and medium bottle washing plants.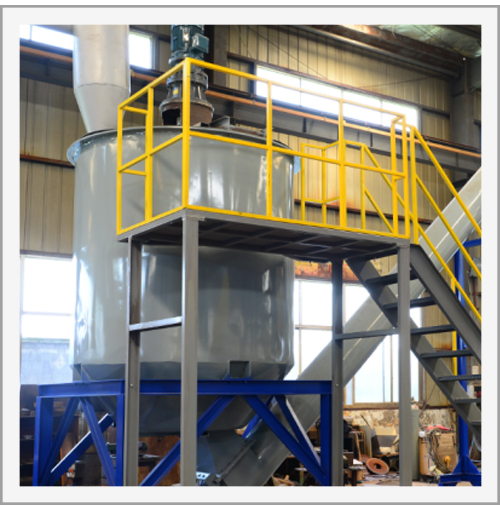 Steam Washer
mainly rely on three washing forces: mechanical force, chemical force and heat force Hot washing, friction through high-speed friction machine and rinsing of bottle flakes with rinsing machine and fresh water can completely remove impurities, glue, potions and other impurities in the bottle flakes, and reduce the total impurity content of PET bottle flakes to 100ppm Range, cleaning and production of high-quality PET bottle flakes, which can be mixed in raw materials to produce chemical fiber products such as long fiber, hot washing machine power 7.5-11 kilowatts, output 1 ton-2 tons / hour.